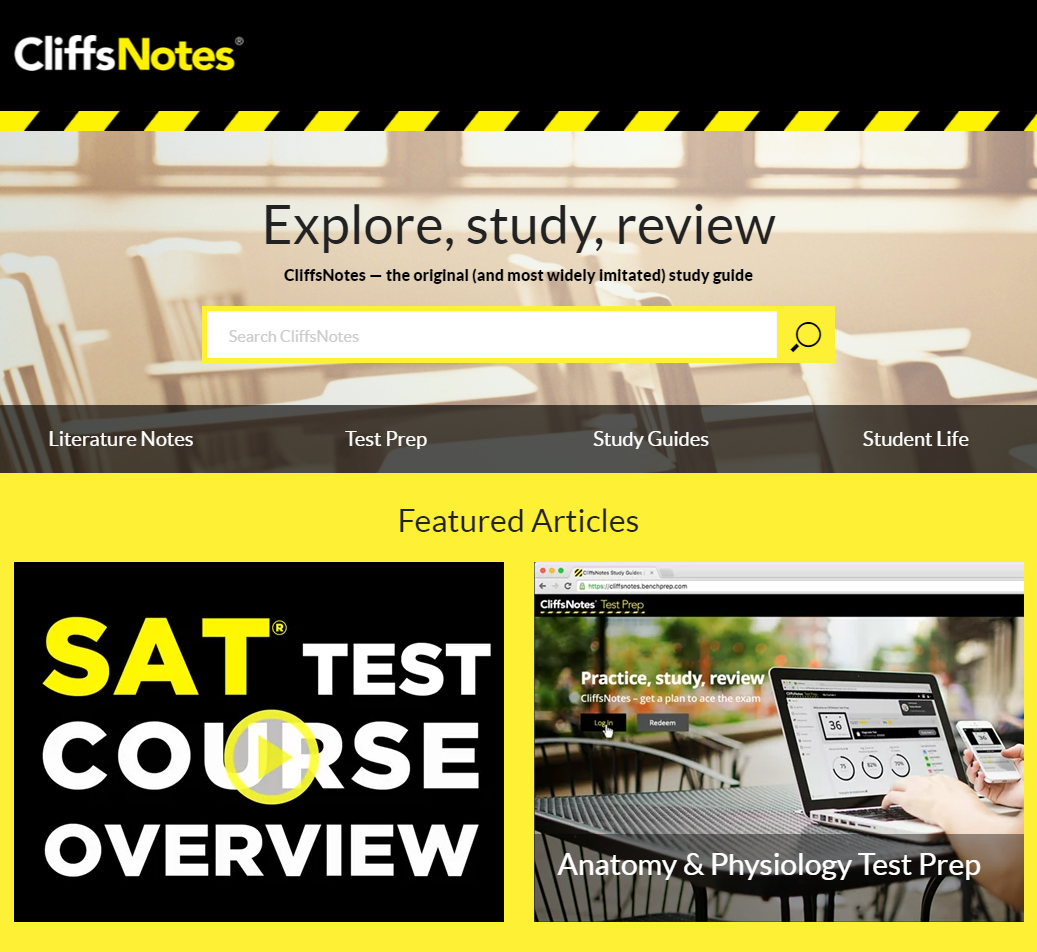 It was the idea of Clifton Hillegass who launched it in 1998. He was working at a book company when he became friends with Jack Cole. Cole started publishing Canadian study guides, and he sold Clifton the American rights to the guides.
He ran the business in his basement at first with only sixteen William Shakespeare titles. In 1998, IDG books purchased the company and John Wiley and Sons in 2001 then bought IDG.
It is one of the pioneers of the study guides business and other companies came after it. At cliffsnotes, easing a student's homework headache is their main priority. They hire teachers and professors to come up with study guides that suit all levels of education. Their study materials are useful to students in high school, college, grad school, and career professionals.
If you need help preparing for a test, cliffnotes can be of assistance. They help you to study for standardized, proficiency or professional tests. They also have tips on how to ace your Praxis, SAT, GRE, ACT, GMAT and lots of other tests. There is also an option for quick reviews for the following subjects:
Spanish
English
Algebra
Biology
Anatomy and Physiology
U.S history
Accounting principles
Sociology
Economics
Display and Design of www.cliffsnotes.com
When you log on to www.cliffsnotes.com, you see a resourceful yet straightforward homepage. The contents contained there are concise and to the point. You have a search bar where you key in whatever you're looking for on the site. Then, there are the basic icons which will take you to any part of the site that interests you. Even for a newbie, the website is user-friendly, and one can easily find the resource material that they seek.
The yellow and black color that they've used for the pages blend in perfectly together. All its links work, and it is safe to say in this cliff notes review that it is impressive.
Services at cliffsnotes
There is a myriad of services that cliffsnotes com offer its clients from study guides to literature reviews. Their series of guidebooks include:
Cliffs Complete. It is like a regular cliffsnotes, but it contains notes and commentary.
Cliffs Quick Review. It is a fast and straightforward reference tool for information on academic subjects such as history and sciences.
Cliffs Study Solver. You learn by mastering approach to Spanish, grammar, algebra, and other topics.
Cliffs AP. It contains advanced placement study guides. They include action plans, reviews, exercises, and test-taking strategies.
Shakespeare on the double. A contemporary English version of the author's books that comes with the original Shakespeare text.
The Manga Editions. Follows the traditional manga format.
Cliffs TestPrep. They are preparation guidelines for your tests either GEDs, SATs or others.
Quality of Service at cliffs notes
All the studying material at cliffs notes are study aids. They have been tailored to work in sync with books and literature articles. They warn their users that using their study guides without first going through the assignment is fruitless. It is tantamount to cheating which cliffsnotes com frowns upon entirely.
Being the pioneers of study guides, www.cliffsnotes.com pride themselves in giving their clients error-free work. The decades that they have been in this industry have given them an edge over other competitors with their mastery of online academic service provider. They employ qualified staff who have years of experience and have already written tons of such study guides.
Even critics online praise this website for the services it provides. Those that have used material from cliffnotes are also satisfied with the quality of their work. Teachers and other online pundits, however, insist that the site is a cheating tool for students. Cliffsnotes has however distanced itself from such claims saying theirs is a service to complement learning and not a cheating center.
Pricing
All the services you find on the website are free. They, cliffs notes, concentrate on advertising to make money. By offering free services to students, they end up getting millions of visitors who are potential clients of the products that they advertise.
Customer Care at cliffnotes
The site is very responsive, and although they have not indicated how long it will take them to reply to your query, views from visitors suggest that it's not a long period. By being in touch with their customers and listening to their comments, cliffnotes continues to win itself more customers each day.
Conclusion on www.cliffsnotes.com
As one of the pioneers of study guides in America, the website has done an impressive job of maintaining its uniqueness while still adapting to the changing times. Their website is simple to navigate and use, endearing more people to it. Although there is criticism about the type of help that they give students, the owners of the site remain adamant that they have put measures in place to deter students from copying directly from it.