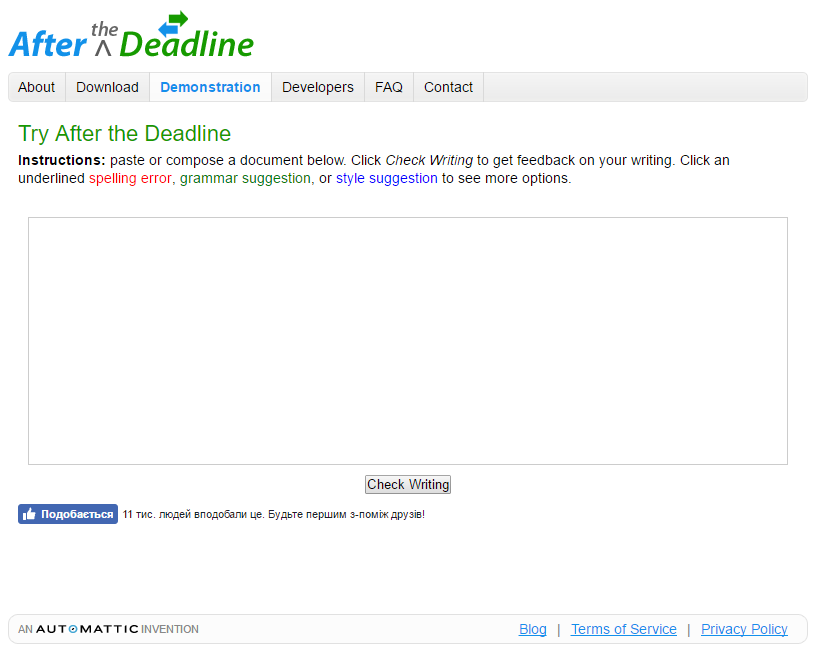 Visual Appeal of polish my writing
Once a user logs into polishmywriting, they see an icon where they are supposed to paste the work that they want to check. It is effortless to use since all that you need to do is copy the work from your word processor and paste it on the website.
The site also has instructions on how to go about the process if you do not understand the visuals that they provide. However, the homepage has a different name from the website's, "After the Deadline" making one wonder if it is the new name of the site or the name of the application they use to check writings.
The fonts used for the website are appealing, giving one a welcoming feel once they log in. There are also icons on the homepage that direct you to other important areas of the website. The homepage only contains the relevant information that a user will require to navigate the site, making it easy to use. The formatting is also okay giving a professional appeal to the site.
Application and Benefits of polish my writing
This site aims to provide users with software that checks their work for errors. It's an excellent application as it sorts out the writers who do not have the financial means to purchase spell checking software such as Copyscape and Grammarly since it is free. An article may have exciting content, but if it is full of errors, a reader will dismiss it immediately; polishmywriting.com gives an option for this. By checking spelling, grammar, misused words, style and highlighting, polish my writing gives a professional makeover to an essay. However one should be careful while using this service since most spell checking software do not know how to differentiate some simple terminologies and accepting the changes that it suggests without confirming may change the meaning of a sentence altogether.
Another benefit that comes with this software is that it does not require a user to register, you just log into the website and commence your work. You paste your work into the window and click on the "Check Writing" button then wait for the application to run and come up with the necessary corrections for your essay. Once done making the suggested revisions, do not leave the window first since polish my writing does not save any work. The work you paste on the site gets erased once you close the window and cannot be retrieved. Copy the complete version of your essay and paste it back into your word processor to avoid losing it.
About polish my writing
Polish my writing is a website that uses artificial intelligence and language processing software technology to find writing errors and offer solutions for them. It is a product of Automattic, the company behind websites such as WordPress, Simperium, Vault, Gravatar, and Jetpack. This technology is available on different sites as add-ons or plugins. Some of the websites that contain it include:
Press where it is available as a plugin
Available as a plug-in on bbPress forums.
Firefox web browser as an add-on
It comes as an extension on Google Chrome web browser.
It is an extension of the word processor, OpenOffice.org writer.
It is available as a bookmarklet for other browsers.
It is only available as a plugin for supported web applications. Therefore, it is unavailable for word processors such as Microsoft Word. The software is also available in other languages such as French, Portuguese, German and Spanish. The software sometimes gets corrections wrong since its decision relies on commonly confused English words, it decides if another word is better depending on the context of the sentence. The application is meant to correct common mistakes and should not be confused with a proofreader; it may sometimes fail to capture some errors.
The loading speed for the website is fast, giving users a great experience while on the site. It also does not contain any ads on its pages assuring users that it's not a marketing ploy but a genuine desire to assist users. The application is not fully developed, and the creators encourage users to download, use it and correct the areas that they can (applies to software developers) so that it can be a better product in future.
Quality of Service at polishmywriting.com
The spell checking technology has some applications that are available for users online. Majority of these software require a user to pay a recurring membership fee to access their services. For this polishmywriting.com review, we give its creators props for offering users a free application that works pretty well. Apart from being fast, polishmywriting identifies most of the common errors that occur while writing. It helps writers significantly considering that they would get charged a lot to use similar applications. The site's owners also allow users to use the technology on their websites for free, but they should follow the set terms and conditions for this.
Conclusion
According to polish my writing com reviews, the application is of excellent service to a majority of online users. Making it free and allowing website owners to plug it into their sites is also a good move. How easy it is to use this product is also commendable and even a first time visitor and a person who is not well versed in technology will be able to use it. One of the things that the software should do is allow users to save their work. There are times a person may accidentally log out of a tab or window unintentionally. The website will automatically delete your job making you start all over again. We are not complaining, however, and urge Automattic Inc. to continue coming up with such excellent and free technologies. The website itself is simple with relevant content. The site has also gone out of its way to answer its users on all the questions they have. If you are a user and have feedback or comment that can improve the software operation, contact the creators on the form provided on the website. We can all agree that polishmywriting.com is a savior to many who enjoy writing but have no access to premium spell checker services.